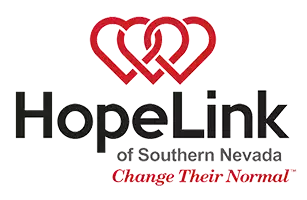 Programs and Services Available Through our Resources
Family Resources
CareerLink
Rent and Utility Assitance
Food Pantry
Affordable Childcare

HopeLink of Southern Nevada began in 1991 as Henderson Allied Community Advocates (HACA) until Nevada state designation of the agency in 1993 as a Family Resource Center serving a 12 zip code jurisdiction.
Today our 31-year-old Family Resource Center serves low to no-income households throughout Clark County with homelessness prevention and family stabilization including rent, mortgage, deposit, and utility assistance, diversion solutions to avoid entry into homelessness, rapid rehousing of those experiencing homelessness, emergency shelter, basic needs such as food and clothing, and employment placement. Our mission is to Prevent Homelessness, Preserve Families, Provide Hope with all HopeLink programs and services aligning to that mission.